6 June, 2012 - 9 June, 2012

Travel Information
Venue
The workshop will take place in the Watson Building, University of Birmingham (Edgbaston campus), see map below.
The majority of participants will stay at the Lucas House hotel, Edgbaston Park Road, see map below.
The postal address for the Conference Park is:
Lucas House Reception,
The Conference Park,
48 Edgbaston Park Road,
Edgbaston,
Birmingham
B15 2RA
Campus maps can be found here.
By Air
From the Birmingham International airport you can take a taxi directly to the Lucas House Hotel on Edgbaston Park Road, which costs about 30 GBP.
Alternatively, take the free Air-Rail link from the Airport terminal building to the Birmingham International railway station. From there, take a direct train to Birmingham New Street (one-way ticket costs 3.30 GBP) and take a taxi from there to the Lucas House Hotel (costs about 10 GBP).
The cheapest option is to take a train from Birmingham International to University station (ticket 3.60 GBP and you must change trains at Birmingham New Street).
If travelling by train follow the directions below.
If you arrive to Heathrow Airport (in London) then consider travelling to Birmingham by coach (see directions below). Alternatively you may take the Tube from Heathrow (Piccadilly Line) to the Euston Station (Nothern Line), and go by train to Bimringham New Street or University stations as described above.
By Train
The main Birmingham station is Birmingham New Street. You can take a taxi from there to the Lucas House Hotel (costs about 10 GBP).
For timetables and ticket reservations, please visit the National Rail Enquiries website.
If not travelling by taxi, from Birmingham New Street one needs to take another train to come to the University of Birmingham (journey time is about 6 minutes). The trains that stop at the University station are local trains with destination Redditch or Longbridge (they usually depart from platform 11b at the Birmingham New Street Station). Please note there are no taxis from the University station. See the map below for walking directions to the School of Mathematics and the Lucas House hotel.
By Coach
National Express and Megabus offer services from many locations to Birmingham. Please check their websites for more information on their stops and prices. There is regular service to central London, Gatwick and Heathrow airports. From the coach stop in central Birmingham, walk to Birmingham New Street station to take a train to University, or take a taxi directly to the hotel.
Walking
The map below shows routes between the University train station, the School of Mathematics (Watson Building) and Lucas House.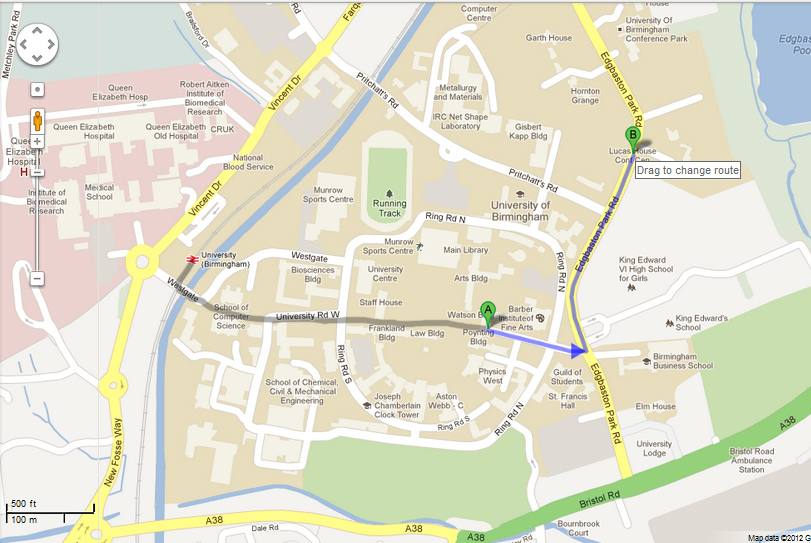 By car
If travelling by car, we suggest you use Google Maps to navigate to B15 2RA. The parking near Lucas House is free for guests of the hotel. Please ask at the reception for a permit.